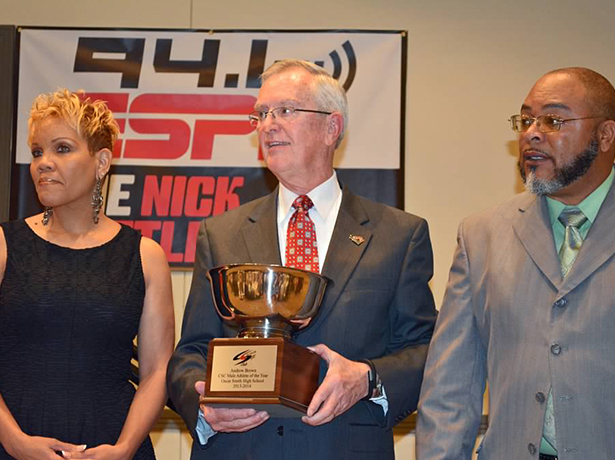 Andrew Brown Chesapeake Male Athlete-of-the-Year 2015
Andrew Brown's Parents Accepted His Award
Andrew Brown
Oscar Smith High School
University of Virginia
It is with great pleasure that the Chesapeake Sports Club recognizes Andrew Brown as the 2014 Chesapeake Male Athlete-of-the-Year. Andrew is a graduate of Oscar Smith High School and is currently attending the University of Virginia on a football scholarship.
While at Oscar Smith High School, Andrew was a 2 year letterman on the tiger's nationally renowned football team.
During his junior year, Andrew was selected Virginia High School League (VHSL) 1st team All-Southeastern District, 1st team All-Region, and 2nd team All-State as a defensive tackle.
During the fall of his senior year, standing 6'4', and weighing 290 lb., Andrew was selected 1st team All-Conference, 1st team All-Region and was also selected first team all-state by Virginia Preps. He was then named the All-Tidewater Player of the year by the Va. Pilot. Despite being double- and triple teamed the entire season, Andrew collected 92 tackles, including 31 for losses, and he had 18 sacks. He also forced 8 fumbles and recovered 4. He was a two-way starter and a five-star recruit who rarely came off the field. More importantly, Andrew led the Tigers to a 14-1 overall record and a state finals appearance in the division 6A playoffs.
Furthermore, Andrew was selected the Va. State Gatorade Player of –the-Year in football. But on December 11, 2013, he was named Gatorade's National Football Player of the Year, becoming the first player from South Hampton Roads, just the second defensive player ever, and just the third from VA to receive the award in its 29 year history. Andrew then became a candidate to be Gatorade's male Athlete of the Year for all sports, and he attended that event on July 2014, before the ESPY awards in Hollywood, California.
At the University of Virginia, Andrew just completed his first year of college football where he has worked his way into the varsity rotation as a true freshman. Andrew recently completed his 2nd semester at UVA with a Grade Point Average of a 3.1. He is majoring in Media Studies.
Andrew, we wish you the best on the remainder of you collegiate career.