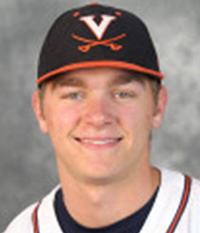 Connor Jones Chesapeake Male Athlete-of-the-Year 2014
Connor Jones is from Great Bridge High School
Connor is currently attending the University of Virginia on a baseball scholarship.
While at GBHS, Connor was a 4 year letterman on the baseball team.
As a high school sophomore pitcher, Connor had a four-win post season run that carried the Wildcats to the 2011 Group AAA state title. His ensuing showcase summer rocketed him onto the radar screen of pro scouts and college coaches.
During his junior season, Connor compiled a 7-1 record with a 1.88 ERA. He had 60 strikeouts in 60 innings pitched. At the plate he batted .338 with a home run and 16 RBI's. He was named 1st team All-District and 1st team All-Region.
During his senior year as a 6 foot 3, 205 pound right-hander, Connor possessed a 92-mph fast ball, biting slider and a devilish change-up pitch. He compiled a 10-1 record with 77 strikeouts while allowing 15 walks and 27 hits over 67 2/3 innings. He did not allow a run during the regular season and finished with a 0.55 ERA. Connor finished his high school career with a 22-3 record and a 1.68 ERA. He was named the district, the Eastern Region, All-Tidewater, and Group AAA POY. Then he capped of his senior campaign by being named the VA Gatorade POY, and was a First-Team All-American selection by Rawlings and Max Preps. He was also named the No. 1 high school player in Virginia and No. 26 nationally by Perfect game.
More importantly, he led the Wildcats to their second Group AAA state finals appearance in three years. Finally, the San Diego Padres drafted him in the 21st round, about 19 rounds later than expected because Connor was so outspoken about choosing a college education over a pro contract for now.
His high school coach Sean Townsend stated, "Connor is a true leader and his mature pitching arsenal is what makes him different from a lot of hard throwing HS kids. He's so polished."
Connor just completed his first semester of college and has worked his way into the varsity pitching rotation on UVA's nationally renowned baseball team as a true freshman.
Mr. Jones, we wish Connor the best of luck on the remainder in his collegiate pursuit.