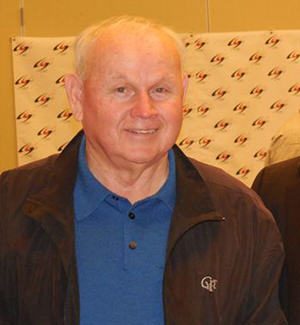 Dave McManus Sportsman-of-the-Year 2014
The Chesapeake Sports Club is proud to announce the 2014 Robert G. "Buddy" Bagley Sportsman of the Year award recipient is David L. McManus.
Dave is a founding member of the Chesapeake Sports Club and has played a vital role in the many successes of the Club. Dave as the clubs first secretary helped develop key policies and membership activities including newsletters, the web page and was instrumental in establishing the annual Jamboree and golf tournament to raise funds for our scholarship program. Dave also serves on the Legends of Honor committee.
Dave graduated from Great Bridge High School in 1962 where he played and lettered in four sports. Football 3 years, Basketball 3 years, Track 1 year and Baseball 2 yrs. Dave played for and was coached by Legends of Honor recipients Billy O'Brien, Jim Calhoun and Harry Blevins. In his senior year was co-captain of the football team and was the team's leading rusher until he suffered a knee injury that ended his football career.
Dave pursued a 35 year career with the U.S. Government in the Department of defense and received many awards including the Navy Meritorious Civilian Service Award and a letter signed by President Bill Clinton thanking Dave for his outstanding service to his country.
Dave has spent much of his adult life serving the Chesapeake Community. Dave coached many sports for 20 years. In the fall of 1962 he, Digger Adkins and others were asked to form the Indian River Football League where they won several championships.
Dave is also a member and Past President of the South Norfolk Ruritans. As president Dave helped raise funds for many community service projects and he raised over $75,000 towards the clubs scholarship program. Dave also helped grow the South Norfolk Ruritan Club to being the largest Ruritan club in America. Dave was voted Ruritan of the year in 2003.
Dave is married to his childhood sweetheart Sandra McPherson and they have three daughters. Dave began coaching girl's basketball and softball when his daughters became active in sports.
Congratulations to Dave McManus. The Chesapeake Sports Club "Sportsman of the Year".