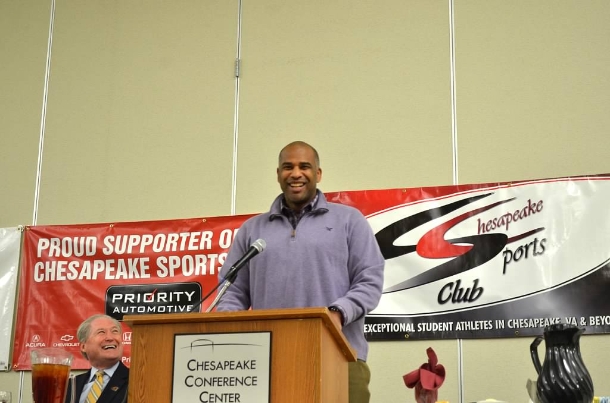 December 2014 Wayne Gomes and Photos
Our December 8th Luncheon speaker was Wayne Gomes, a Hampton Roads native and was a Phoebus High school graduate in 1990. He climbed the ranks from Phoebus Little League, to American Legion baseball on to Old Dominion University where he earned an athletic scholarship.
Not highly recruited in high school, he pursued his dream of Major League stardom by going into college and making an immediate impact. Wayne made his mark as a freshman in 1991 as he led the Sun Belt Conference in saves with nine and ranked among the nation's top 15 in that category. He was named first team freshman All-American by COLLEGIATE BASEBALL NEWS in 1991. That same season, Old Dominion ranked as high as 23rd nationally and reached the Sun Belt Conference Tournament finals. During his sophomore season, he fanned 54 batters in just 35 innings of work. He recorded three saves and registered a 2.04 earned run average. As a junior in 1993, Gomes earned first team honors from the Colonial Athletic Association and first team All-State honors. That year, he compiled a 2.03 earned run average with four saves and 55 strikeouts in 26.2 innings. He recorded three saves and registered a 2.04 earned run average.
In 1993, Wayne was the highest player selected in the Major League draft pick from the Hampton Roads area. The Philadelphia Phillies selected Wayne as the fourth overall pick in the first round. Wayne completed his career at Old Dominion with a 5-3 record. He pitched 100 career innings with 156 career strikeouts and a 2.43 earned run average. Gomes saved 16 games which was a record at Old Dominion when he completed his career.
Wayne's rise to the Major Leagues definitely took an unconventional route. He was not highly recruited out of high school. Initially, he was prepared to attend the Newport News Apprentice School to learn a trade and play baseball. This plan was side tracked while being discovered by Old Dominion's coaching staff in a summer All-Star game. Initially, he turned down the offer because he was afraid of the academic requirements and the competition, but he took a chance. Under the tutelage of Pat McMahon (University of Florida Head Coach), he took hold of the opportunity and became an All American in his first season and appeared on the Dean's list for his academic accomplishments. The Philadelphia Phillies recalled Wayne from the minor leagues on June 13, 1997. On this day, he was called in to pitch and did so with one inning of relief of Curt Shilling and recorded the win. He went on to pitch in the major leagues with the Phillies until 2001. For the duration of his 1999 season, he was voted as the Rolaids Relief Man of the team. In the 2001 season he was traded to the San Francisco Giants. During this year he played along side Barry Bonds in his record breaking homerun season. In 2002, he signed as a free agent with the Boston Red Sox. During this season he pitched as a set-up man help guild his team to a second place in the American League east, only one game behind the rival New York Yankees. In 2003, Wayne made a trip back to the minors with Scranton in the International League where he pitched in the IL All-Star game and led the league in saves. Following the 2003, he signed with the Oakland A's. Throughout the 2004 season with the Oakland A's affiliate, Gomes lead the team in ERA and appearance and help guide the team to its 2nd consecutive Pacific Coast League Championship. After completing his major league career, Wayne continued his playing career overseas. In 2005 he pitched for the Yucatan Leones and the Saltilo Gigiantes of the Mexican league.
Education
As previously stated, Wayne was drafted in 1993. This summer he started his professional career in Single A Batavia and later was promoted to Clearwater, Fla. After completing his first summer of professional baseball, Wayne came back to Old Dominion to complete his degree in Recreation and Leisure Studies.