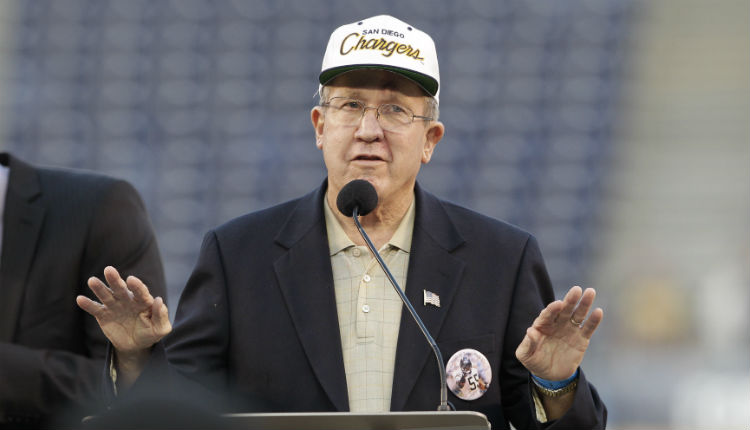 December 2015 Bobby Ross Former American Football Player and Coach and Photos
Speaking December 14th was former American football player and coach, BOBBY ROSS.
With more than forty years of experience, Bobby Ross remains one of the few football coaches to have enjoyed success at both the collegiate and professional levels. In 1990, as head coach at the Georgia Institute of Technology (Georgia Tech) in Atlanta, he led the Yellow Jackets to an undefeated season and a share of the national title. Four years later he took the San Diego Chargers of the National Football League (NFL) to Super Bowl XXIX, where they were defeated by the San Francisco 49ers.
Robert Joseph Ross was born in Richmond, Virginia, on December 23, 1936. He played two years of collegiate football at the Virginia Military Institute, where he graduated in 1959. Ross coached high school football for several years before returning to his alma mater as an assistant coach. From there he joined the coaching staffs at the College of William and Mary in Williamsburg, Virginia; Rice University in Houston, Texas; and the University of Maryland in College Park. In 1973 he landed his first head coaching job, at the Citadel in Charleston, South Carolina, where he compiled a 24-31 record over the course of five seasons. Ross served as assistant coach with the NFL's Kansas City Chiefs from 1978 to 1981, leaving that position to become head coach at the University of Maryland. Ross earned recognition for his high-powered offenses at Maryland and led the Terrapins to three conference titles and four bowl games.
When Ross left Maryland in 1986 to become the eighth head coach at Georgia Tech, he inherited a team that had won just five games the previous year. Although Ross won only five games during his first two seasons at Tech, he turned the program around in 1989, finishing with seven wins and four losses. The 1990 campaign proved to be the high point of Ross's collegiate career, as he led Tech to its first Atlantic Coast Conference title and a share of the national championship.