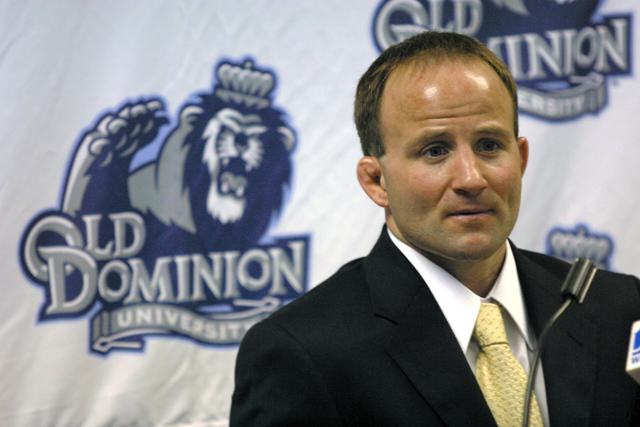 February 2013 Steve Martin
Steve Martin, Old Dominion University Head Wrestling Coach was our February 11th Luncheon Speaker.
Winning is all that Old Dominion wrestling coach Steve Martin has ever known. From his days as a high school wrestler at Kempsville High School in Virginia Beach, as a three-time Virginia high school state champion, to his days at the University of Iowa where he was an all-American and Midlands Champion, and as the head coach at Great Bridge High School, all Steve Martin has ever known is winning. Heading into his ninth year at Old Dominion in 2012-13, that winning tradition has continued.
Martin led ODU back into the top-25 in 2011-12 en route to capturing a school record seven qualifiers for the NCAA Championships. Scott Festejo and Te Edwards each won CAA titles for ODU while the Monarchs stunned ranked foes Iowa State, Rutgers and Central Michigan during the season. ODU has now sent 35 qualifiers to the NCAA Championships in the past eight seasons. Martin has now led Old Dominion to double-digit dual victories in seven of his eight seasons with the program.
The 2010-11 campaign saw Martin and the Monarch produce their fourth-straight All-American, as James Nicholson earned All-American honors for the second time in his career, becoming the first Monarch since Buddy Lee to be a two-time All-American. The Monarchs sent three student-athletes to the national tournament, including Nicholson, Kyle Hutter and Joey Metzler.
In 2009-10, Martin led three Monarchs to CAA Championships to qualify for the NCAA Tournament and produced an all-American for the third-straight season, with Chris Brown finishing eighth at 165-pounds. With three NCAA qualifiers, it totaled 25 participants at the NCAA Championships in the last six years for ODU.
The 2008-09 season was perhaps one of the greatest in ODU wrestling history. The team was ranked 16th in the country in the final dual meet rankings and went a perfect 5-0 in league duals to claim the regular season CAA title. The Blue and Silver posted victories over nationally-ranked Hofstra and Virginia Tech and had a Top-20 finish in the NCAA Tournament with the school's second ever national finalist.
For the sixth-straight season ODU won double-digit dual matches and Martin was named the Virginia Sports Information Directors Association (VaSID) Coach of the Year for the 2008-09 season.
Martin and ODU recorded five-straight second place finishes at the CAA Tournament from 2005-09 and produced the most wins in a three-year span in school history (45) from 2006-2009.
In 2007-08, Martin led the team to its second-best record in school history, finishing 17-3 in dual action. Also for the first time in school history the Monarchs earned a top 20 ranking as a team. He was named the CAA Coach of the Year as well as the VaSID Coach of the Year. Martin led six Monarchs to the NCAA Tournament for the first time in program history, including ODU's first All-American since 1995, James Nicholson.
In 2006-07, ODU had three NCAA Qualifiers, including coaching a wrestler mere seconds away from All-American status. The team also boasted its first ever Academic All-American in Ryan Williams, and an alternate on the Junior World team.
Coach Martin also led Old Dominion in two wins in the first two matches ever held at The Ted Constant Convocation Center. ODU will continue to host wrestling matches at The Ted under the direction of Martin.
The foundation for Martin's winning resume was also built on his pedigree. His father, the legendary Billy Martin, is the father of Virginia wrestling and won 22 state wrestling team titles in 23 years and coached dozens of state champions that went on to win and place at the NCAA championships.
Martin's brother David was a four-time Virginia high school state champion at Granby high school under his father and went on to wrestle at Indiana State.
Billy Martin, Jr. was a three-time NCAA all-American at Oklahoma State, finishing second in 1974. Wayne Martin preceded Steve at Great Bridge after wrestling at Old Dominion, and has now taken over again at Great Bridge now that Steve is the coach at ODU.
The groundwork for a successful wrestling coach was set in motion even before Steve Martin stepped on the mat as a competitor.
As a coach, he saw success only matched by his father, leading Great Bridge to 13 state championships in 14 years. Each of those 13 years, Martin's Wildcats were nationally ranked.
Moving up to the college ranks, Martin still keeps the winning attitude that's built around hard work in the wrestling room, hard work on your own, and hard work in the classroom.
"We had this emphasis in college, where you broke somebody," Steve Martin told the Virginian-Pilot in 2001. "You won by 15 points, or you pinned them, and at the end of the match, they crawled off the mat mentally and physically destroyed and they never wanted to step on the mat again with you."
Martin coached 40 high school state champions, 98 state place-winners, 35 All-Americans (freestyle and folkstyle) and six high school national champions. He also coached NCAA Division I National Champion Carl Perry to three high school state championships at Great Bridge. Perry is currently an assistant at Illinois.
He was awarded the National Wrestling Coaches Association state and regional coach of the year in 1995 and 2000. The Norfolk Sports Club named him the Bob Bates Award winner as the Outstanding Metropolitan Coach of the Year.
On the high school level, Martin has been active in Virginia USA Wrestling, coaching at the Junior Nationals in Fargo, N.D. and has coached with the Wrestling USA Magazine Dream Team Classic and the Dapper Dan Classic in Pennsylvania.
At Old Dominion, Martin will have more of a challenge and he readily accepts it. Making the Monarchs program one of the top programs on the East Coast and in the nation is paramount.
"Virginia high school wrestling is making a name for itself on the national level. While we will be recruiting nationally, it will be goal of our staff to keep these Virginia kids at home in front of their family and friends," Martin said.
His goal to become a coach was the first step, and with the administration supporting the program, becoming a winning program will be only a matter of time, Martin says.
"The school has made a nice commitment to the wrestling program," said Martin in an interview with Ron Good of Amateur Wrestling News in September of 2004.
Martin graduated from the University of Iowa in 1991 and got his master's degree from George Washington University in 1996. Steve and his wife Lori live in Chesapeake, Va. They have four children in Madison, Macy, McKenna and Max.
Martin enjoys the outdoors and spending time with his family. When he is not on the mat, you can find him at the beach or at the Martin's farm on Knott's Island, N.C.