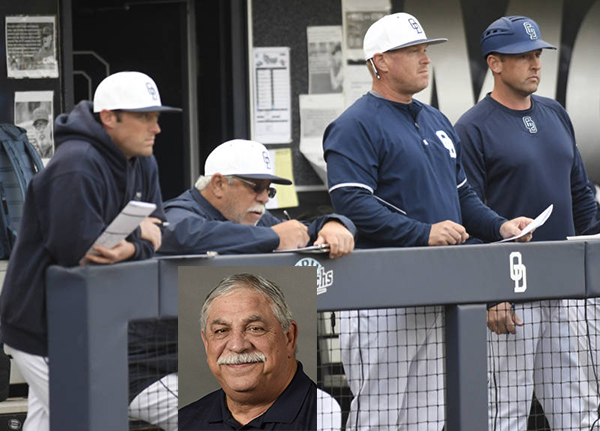 June 2017 Tony Guzzo Special Assistant to ODU Baseball Coach and Photos
Speaking June 12 was Tony Guzzo Special Asst. to Head Coach.
Former Old Dominion baseball head coach Tony Guzzo returned to ODU as a special assistant to the head coach prior to the 2017 season.
Guzzo, one of the deans of collegiate baseball in the state of Virginia, guided the Monarchs for 10 seasons from 1995 to 2004. During his tenure, Old Dominion won two CAA regular season titles (1996, 2000), two CAA Tournament titles (1995, 1996) and earned three NCAA Regional appearances (1995, 1996, 2000).
Overall, Guzzo amassed a career record of 303-252 at Old Dominion, giving the long-time head coach a total of 734 victories as a collegiate skipper. At ODU, Guzzo guided several of the progrem's brightest stars, including Justin Verlander, Kevin Gibbs, Matt Quatraro, Tim Hummel, Ron Walker, Tony Gsell and many more.
Prior to ODU, Guzzo coached at VCU, where he compiled a 329-300-1 from 1983-1994. Prior to the Rams, he rolled up a 102-66 record at North Carolina Wesleyan, taking that club to the NCAA Division III World Series in 1981 and 82. Both teams placed fourth in the nation.
In his early days as a coach, he served as a graduate assistant at East Carolina from 1976-78 and as head baseball and football coach at Norfolk Catholic High School from 1972-76.
Guzzo played both baseball, as a catcher and football as a placekicker at fellow CAA institution East Carolina University. He is the parent of two children; a son, Anthony, and a daughter, Gina.
A native of Norfolk, Guzzo graduated from Norfolk Catholic High School in 1967 and earned a B.S. degree in health and physical education from East Carolina University in 1971.