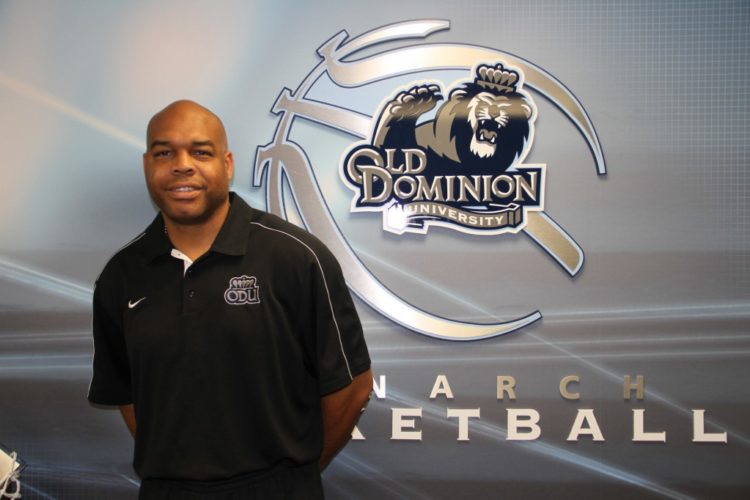 April 2015 ODU Basketball Assistant Coach Bryant Stith and Photos
Where Are They Now: Bryant Stith
Former Denver Nuggets Guard Enjoying Successful Coaching Career
By Aaron J. Lopez, Nuggets.com, 9-6-13
Bryant Stith our April 13th luncheon speaker, averaged 10.9 points and 3.5 rebounds in eight seasons with the Nuggets.
After a productive 10-year NBA career, former Denver Nuggets guard Bryant Stith moved back to his hometown of Lawrenceville, Va., with his high school sweetheart and their four children.
The quiet retirement was going according to plan until the new principal at Brunswick High School approached Stith about coaching the boys' basketball team.
The principal, Lawrence Whiting, had made a list of his top three candidates.
"I asked him what those were," Stith recalled during a telephone interview this week. "He said, 'Bryant Stith, Bryant Stith and Bryant Stith.' "
Whiting obviously knew his stuff. With Stith on the bench, Brunswick advanced to the 2A state title game for seven straight years. Brandan and B.J. Stith played leading roles on the team as their dad guided the Bulldogs to championships in each of the past three seasons.
Because of the family connection, the victories were sweeter than Stith's back-to-back state titles as a player at Brunswick in 1987 and 1988, and they surpassed anything he experienced in his college or pro basketball career.
"If I was writing a book, I couldn't have scripted it any better," he said. "I had missed out on a lot of special moments when the kids were growing up. I was able to make up for those lost times by being at home with the kids and coaching my sons and playing a major role in their development as basketball players.
"I would've loved to have won an NCAA national championship. I would've loved to have won an NBA title. But being there and being able to win my first state championship with my sons on the team and then to repeat and to win the third one with them, it was priceless."
With Brandan now a freshman at East Carolina and B.J. transferring to the prestigious prep program at Oak Hill Academy, Stith is preparing for his first season as an assistant at Old Dominion University.
The move from high school to college could be another stepping stone for Stith's eventual return to the NBA.
"I have to continue to grind and be successful at what I do," he said. "Hopefully that may open doors for me down the road. Right now, my main focus is to be a good assistant coach for Jeff Jones and ODU. The Lord has always ordered my steps and I'm going to continue to be faithful, work hard, and let the chips fall where they may."
Stith certainly knows a thing or two about destiny.
Drafted 13th overall by the Nuggets in 1992, he played a major role for the 1993-94 Denver team that upset the top-seeded Seattle SuperSonics in the first round of the Western Conference playoffs.
The Nuggets improbably erased a 2-0 series deficit to become the first No. 8 seed in NBA history to advance past the first round.
As the 20th anniversary season approaches, Stith still cherishes the memories from that magical playoff run.
"People identify my NBA career with the win that we had over the Seattle SuperSonics," he said. "Whenever anybody talks about my NBA career, they always talk about Dikembe (Mutombo) lying on the floor. They remember seeing me sprint around the floor and how excited they were for me.
"That was probably the defining moment of my NBA career as a player. Rightfully so because we had done something that had never been done in NBA history."
ODU Website Bio
Bryant Stith joins the ODU family as an assistant coach. Stith, an All ACC performer and a 10-year NBA veteran who has coached Brunswick County High School to three straight Virginia AA State titles, will begin his duties on May 10th.
"I am elated to have Bryant joining our staff at Old Dominion. He was a tremendous basketball player,and had tremendous collegiate and NBA careers, but the special thing about Bryant is that as good as he was as a basketball player he's even better as a person. He will be a great addition to our staff, and a great addition to the community. He will be able to help our student athletes develop as basketball players, but also as young men. He will be an outstanding ambassador for our program and I can't wait to get started." – Jeff Jones – ODU head coach
Stith was the 13th overall selection of the 1992 NBA draft by the Denver Nuggets where he played eight years. He also played for the Boston Celtics and the Cleveland Cavaliers before retiring in 2002. He scored 5,946 career points, averaging 10.1 points per game for his NBA career and also dished out 1,178 career assists, averaging 2.0 per game.
Stith played for Jones at the University of Virginia where he was the 1989 ACC Rookie of the Year.Stith finished his career in 1992 as Virginia's all-time leading scorer with 2,516 career points. He earned first-team All-ACC honors three times and was named the Most Valuable Player of the 1992 National Invitation Tournament.
After graduation, Stith played for the US national team in the 1990 FIBA World Championship in Buenos Aires, Argentina, winning the bronze medal. He also helped lead the US national team to the silver medal at the 1980 Goodwill Games in Seattle.
A native of Emporia, VA., Stith was inducted into the Virginia Sports Hall of Fame in 2007. As a high school coach at Brunswick High School, his squads won state championships in 2011, 2012 and 2013.