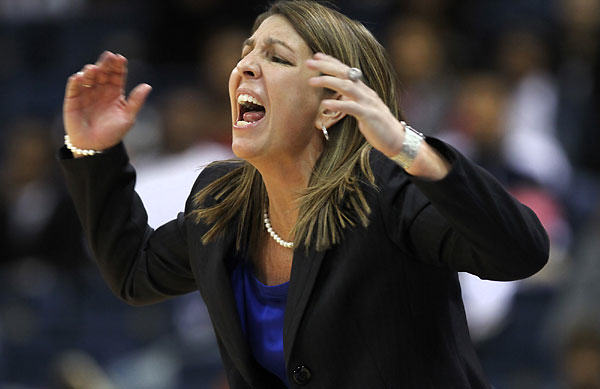 September 2012 Karen Barefoot
Our September 10th Luncheon speaker was Karen Barefoot head coach of the Old Dominion women's basketball team.
Barefoot, who hails from Newport News, Va. (Menchville High School), has a career head coaching record of 221-164, resulting in 11 winning seasons. Aside from Elon, Barefoot has also held the head coaching position at Division II Lenoir Rhyne University and at the Apprentice School.
Barefoot helped Elon reach new heights in 2010-11, as the Phoenix finished the season with a 20-13 record – the program's best season at the Division I level and only the fifth team in program history to reach the 20-win plateau. The Phoenix 11 home victories marked the most home wins in a single season in the Division I era, while the team's postseason appearance in the Women's Basketball Invitational was the first since joining Division I. Elon recorded its 20th win of the season in the WBI. Barefoot also led Elon to 12 victories in SoCon play, doubling their 2009-10 total and tying the 2003-04 squad for the most SoCon wins in a season.
Prior to coming to Elon, Barefoot was an assistant coach at Old Dominion, where the team compiled a 77-23 record, won three CAA Championships, and was a perennial top-25 program. In 2007-08, ODU advanced to the Sweet 16 of the NCAA Tournament, defeating 12th-seeded Liberty University and fourth-seeded Virginia, which to this day is one of the most memorable games in the history of the Ted Constant Convocation Center. The Lady Monarchs completed 2007-08 with a 31-5 record. Along with its 17th consecutive Colonial Athletic Association crown, ODU earned a ranking as high as 11th in the nation.
Barefoot originally came to Old Dominion after serving as the head coach at Division II Lenoir-Rhyne from 2001-2005. While at the NCAA Division II school, Barefoot captured the first South Atlantic Conference regular season title in school history in 2003-04 en route to claiming league Coach of the Year honors. Under her leadership, the team also grabbed the first SAC tournament championship in school history in 2002-03. That year, the team finished the season ranked eighth in the region following its first-ever trip to the NCAA Division II National Tournament. In her first year at Lenoir-Rhyne, she led the program to its best record in 15 years, going 19-9 Barefoot coached Lenoir-Rhyne's first NCAA First Team All-American, South Atlantic Player of the Year and SAC Tournament Most Valuable Player. Additionally, under her guidance the Bears had four student-athletes earn All-SAC honors and 13 student-athletes named to the SAC Commissioner's honor roll.
Karen Barefoot on Twiter