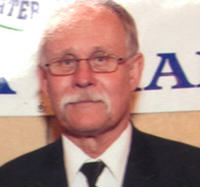 Sid Savoy Chesapeake Coach-of-the-Year 2014
Coach Savoy is an educator and coach at Oscar Smith High School. Coach Savoy is married to his lovely wife Lynne and they have two children Amber and Chip.
Coach Sid Savoy has taught and coached for 39 years for his entire career at, Oscar Smith High School of South Norfolk and Chesapeake, VA. Adopted from a German orphanage at 18 months, Sid's American parents brought him "home" to Portsmouth, Virginia in 1954. In high school, he played football and wrestled for the Cradock High School Admirals, graduating in 1970. He then left for South Carolina State University, where he played football, wrestled, and swam for the Bulldogs.
Returning to Virginia, he began his "first and only teaching and coaching job" in 1975, becoming "part of the Oscar Smith family." Sid was an assistant baseball coach for a few years, and an assistant football coach for 25 years. As the head wrestling coach for over 35 years, he built the wrestling program with decades of "hard work and dedication" from him and his longtime assistant, Ray Collins. "After a start with low numbers," Sid recalled, "we grew to an average of 30 to 40 wrestlers on the squad." Coach Savoy is very proud of pioneering the participation of females in high school wrestling in Virginia.
Sid has had many district, region, and state place winners during his tenure, but is most proud of his ability to build men and women of character. The record he compiled was astonishing: 519 overall wins, 224 losses, and 1 tie in dual-meet competition and 33 tournament championships won in historically the toughest wrestling area in the state of Virginia, Southside Hampton Roads.
Oscar Smith High School is Sid's family and his passion. He taught physical education for 15 years, driver's education for 13, and has been in security for the last 5 years. He enjoys the relationships that he has with the students, staff and faculty. Sid is one of the unique teachers at Smith. He has taught the parents, and occasionally the grandparents of many current students at Smith.
Not surprisingly, honors and accolades are coming his way. He has been recognized as Teacher of the Year and Coach of the Year at Oscar Smith high School. This past year Sid was inducted into the Virginia Chapter of the National Wrestling Hall-of-Fame. He has been enshrined in the Oscar Smith High School Sports Hall of Fame, and he has had the wrestling room at Oscar Smith named in his honor.
Coach Savoy is grateful to many people for their love and support. He recently stated, "God blessed me with two loving and understanding wives, Debbie and Lynne, three fantastic children, Amber, Sarah, and Chip, two great sons-in-law, Dale and Aaron, and two wonderful grandsons, Isaiah and Kai."