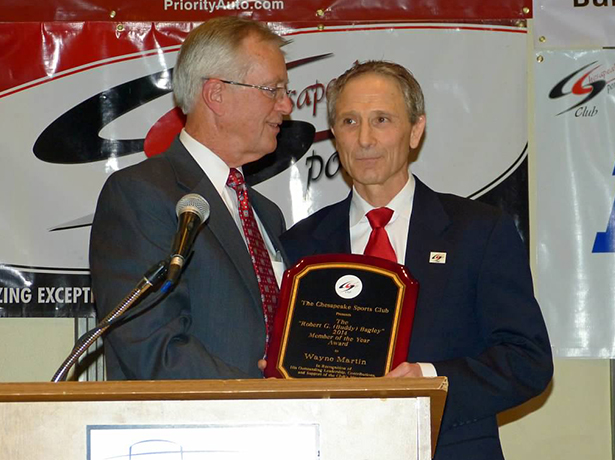 Wayne Martin Sportsman-of-the-Year 2015
Wayne Martin Accepting His Award
Wayne Martin
Chesapeake Sports Club
It is with great pleasure that we announce Wayne Martin as the 2015 recipient of the Robert G. "Buddy" Bagley Sportsman of the Year award. Also here this evening is Wayne's wife Jannette.
Wayne is in his 32nd year as an employee of Chesapeake Public Schools. He received a Baccalaureate degree in Physical Education from Old Dominion University in 1983. He then received a Master's Degree in Education from The George Washington University in 1990.
Wayne is a graduate of Kempsville High School and Old Dominion University where he was a state champion wrestler at both levels of competition. After graduation in 1983, Wayne began his teaching career at Great Bridge High School (GBHS) where he also coached wrestling.
He quickly implemented the "Granby Style" of wrestling, and transformed GBHS into a state and nationally recognized program. During his nine-year tenure at GBHS, his teams produced a dual team record of 137-15-1. Wayne coached 22 individual state champions, 47 state place winners, 12 high school All-Americans, and a NCAA runner-up. Under his direction, the Wildcats captured 8 district titles, 6 regional titles, and 6 VA AAA State Team Titles. Wayne's 2005 team placed nine wrestlers in the state finals and crowned six individual champions. That team established the current state team scoring record with 259.5 points and were declared the Public Schools National Champions by Amateur Wrestling News magazine.
Wayne has received many awards and recognitions during his coaching career such as:
• Being named the VA State Coach-of-the-Year award in 1988.
• Being named the National High School Coach of the Year in 1991 by Amateur Wrestling News; and
• Being inducted into The National Wrestling Hall of Fame VA Chapter in 2007.
Mentored by his father, legendary Billy Martin, Wayne has developed an extensive repertoire of winning skills and techniques and is exceptional at teaching the details of the sport.
Wayne currently serves as the Director of Student Services for Chesapeake Public Schools and is responsible for overseeing the middle and high school athletic programs for approximately 6900 student-athletes. Wayne is a founding member of the Chesapeake Sports Club and has played a vital role as the Chair of the Club's "High School Athletic Awards Committee." This committee recognizes one outstanding student-athlete from Chesapeake for each Virginia High School League or Private School sanctioned sport at the monthly luncheons.
Wayne has been married to Dr. Jannette Martin, a local middle school principal for six years. He also has two adult children, Joshua and Samantha.
Congratulations to Wayne Martin, Chesapeake Sports Club 2015 Sportsman-of-the-Year.