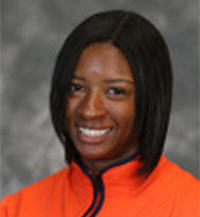 Andrea Wright Chesapeake Female Athlete-of-the-Year 2014
Andrea Wright is from Indian River High School
87Andrea Wright is currently attending the University of Virginia on a Track & Field scholarship where she is majoring in sports medicine.
While at IRH, Andrea was 4 year letterman on the girls indoor and outdoor track teams.
As a junior during the 2012 indoor season, she was a member of the district championship 400M relay team and a member of the runner-up 200M relay team. Those same two relay teams placed 3rd in the regional tournament and the 400 relay team capped of the season by being named all-state at the Group AAA indoor state meet.
During the 2012 outdoor season, Andrea gained All-State recognition at the Group AAA outdoor state championship in the 200M dash. Later that summer she competed at the USA Track & Field Junior Olympics and was named an All-American as a member of the 400M relay team.
As a senior during the 2013 indoor season at Indian River High, Andrea had a breakout year. She won district titles in the 300M and 500M dashes. At the Region championship she won the 500M dash. At the Group AAA Indoor State competition, Andrea was crowned a VHSL state champion in the 300M dash.
Andrea competed her indoor season by competing at the 2013 New Balance Indoor Nationals where she gained All-American status by placing 6th in the 300M dash.
Finally, during the 2013 outdoor season at Indian River High, Andrea captured the district and region championship in the 400M dash. She then capped off her high school career at the Group AAA State Championship by winning her second gold medal, this one in the 200M dash.
Andrea recently completed her first semester at the University of Virginia. Andrea, we wish you the best of luck in her collegiate pursuit.