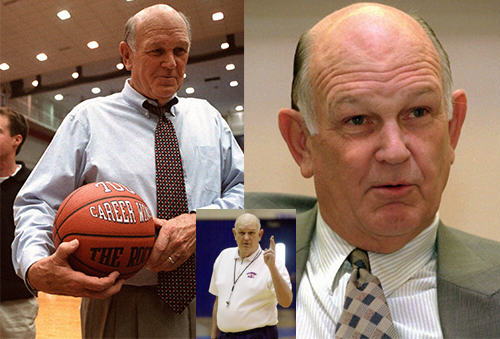 April 2014 "Lefty" Driesell and Photos
April 14 Luncheon photos with speaker Charles "Lefty" Driesell, a retired college basketball coach.
Photos by Chesapeake Sports Club Member Linda Allen Clifton
Our April 14 Luncheon speaker was Charles "Lefty" Driesell, a retired college basketball coach. Driesell grew up in Norfolk, Virginia where he attended Granby High School.
The famous left-hander attended Duke University from 1950 to 1954, playing basketball under coach Harold Bradley.
He began his coaching career as a junior varsity coach at Granby High School in Norfolk, Virginia in 1954, and then took over as varsity coach the next year. In 1957 he took a head coaching job at Newport News High School, where his teams built a 57-game winning streak.
Lefty Driesell's first college head-coaching job was with Davidson College from 1960 to 1969. During his tenure there, he won the Southern Conference championship three times. In 1969, he was hired by the University of Maryland. It was during his introductory press conference that he made the bold statement that he wanted to make Maryland the "UCLA of the East". UCLA was the dominant college basketball program at the time.
Driesell coached the University of Maryland Terrapins from 1969 to 1986. During his tenure, the basketball team had such star players as Tom McMillen, Len Elmore, John Lucas, and Albert King. In he signed high school star Moses Malone, but loses him to professional basketball, the Utah Stars, in 1974 just before classes begin. Moses was was one of the first basketball players to jump straight from high school into the professional leagues.
Coach Driesell is also credited with starting the nationwide tradition of Midnight Madness in 1971, which began with the idea of getting the school excited for the team and the upcoming basketball season, and resulted in an event that involved having the team being introduced and practicing at midnight of the first day the team is allowed to begin practice during the school year. In 1972 his team won the National Invitation Tournament.
He then went on to coach the James Madison Dukes until 1996, and the Georgia State Panthers, where he retired on January 3, 2003 in the middle of his 41st season of coaching. His final coaching record in the NCAA was 786-394.