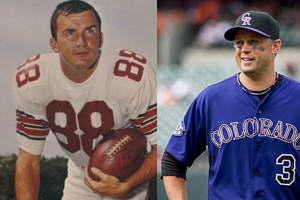 February 2014 Sonny Randle, Jr. and Legend of Honor Michael Cuddyer with Photos
Photos by Chesapeake Sports Club Member Linda Allen Clifton
Our February 10th luncheon speaker was Ulmo Shannon "Sonny" Randle, Jr., former NFL star and head coach for UVA, ECU and Marshall University. Current radio talk show host.
After playing college football at the University of Virginia, Randle became a wide receiver in the NFL (1959–1968) for the Chicago and St. Louis Cardinals before completing his career with the San Francisco 49ers and the Dallas Cowboys.
In only his second season in the NFL, Randle led the league in receiving touchdowns with 15 and was named first-team All-Pro by the Associated Press (AP), The Sporting News and UPI.
Randle had 65 touchdown catches in 120 games during his career, currently placing him 12th on the NFL's all-time TD-per-game list (minimum 60 TDs). His 65 TD catches were also the most in the NFL during the 1960s (Don Maynard caught 84 and Lance Alworth caught 77, but in the AFL).
On November 4, 1962, Randle had one of the biggest games statistically by a wide receiver in NFL history as he caught 16 passes for 256 yards in a game against the New York Giants. Randle finished the 1962 season with 63 receptions for 1,158 yards and 8 touchdown catches and was named second-team All-Pro by UPI.
Randle once again passed the 1,000-yard receiving mark in 1963, finishing with 1,014 yards on 51 catches, 8 of which went for touchdowns.
After his retirement in 1968, Randle became an assistant coach at East Carolina where, after one season, he became the Pirates' head coach, a job he held from 1971 through 1973. He then spent two years as head coach at his alma mater, the University of Virginia (1974–1975), two seasons at Massanutten Military Academy (1976–1977), and five seasons at Marshall (1979–1983).
Since the mid-1980s, Randle has been active in sports broadcasting, participating in radio broadcasts of college football games as a color commentator in St. Louis, Virginia, and West Virginia. In 1991 he became president of S-R Sports, a syndicated talk radio network based in Virginia.
Our February 10th Legend of Honor was Michael Cuddyer, professional baseball outfielder and first baseman with the Colorado Rockies of Major League Baseball (MLB).
High school
Cuddyer was born in Norfolk, Virginia and is a 1997 graduate of Great Bridge High School in Chesapeake, Virginia, where he was a standout athlete in baseball, basketball, and football. Cuddyer was named Virginia's Player of the Year and Gatorade National baseball Player of the Year in 1997. He was also a member of USA Today's All-Star and the USA Junior National teams in 1997.
Professional career Minnesota Twins
Cuddyer was drafted by the Minnesota Twins in the 1st round (9th pick) of the 1997 amateur draft, but did not sign until August. Consequently he did not get his first taste of organized baseball until 1998 when he was assigned to the Fort Wayne Wizards in the single-A Midwest League. Showing the tools that made him a #1 draft pick and regularly named to the Baseball America's top minor league prospects, Cuddyer made steady progress through the Twins' minor league system and made his Major League Baseball debut on September 23, 2001 after hitting .301 with 30 home runs and 87 RBI in 141 games at AA New Britain. After hitting .309 with 20 home runs in 86 games at AAA Edmonton, Cuddyer would be called back up with the Twins for the 2002 stretch drive and would be named to the post-season roster where he would hit over .300 against the Oakland A's and the Anaheim Angels. Despite playing over half of his 676 minor league games at thirdbase and another 166 games at second, prior to the 2004 Cuddyer got most of his playing time as an occasional fill-in in the outfield. During 2004, Cuddyer started to see more time in the majors in the infield, playing second and third base. After the departure of veteran Twins third baseman Corey Koskie to the Toronto Blue Jays by way of free agency in 2005, Cuddyer became the Twins' starting third baseman. However, he struggled at third base and was relegated to a reserve role for much of 2005, although he did hit .263 with 12 home runs for the second season in a row.
Cuddyer underwent surgery to repair a tear in his right lateral meniscus in October 2005. The Twins then extended his contract on January 21, 2006, giving him a one-year deal worth $1.3 million. After beginning the 2006 season on the bench, Cuddyer emerged as a regular in right field and in the cleanup spot of the Twins batting order. He finished second to Justin Morneau in RBI for the Twins in 2006.
Prior to the 2008 season, Cuddyer re-signed with the Twins for three-years, $24 million with a $10.5 million club option for 2011.
On April 4, 2008, Cuddyer suffered a dislocated right index finger after sliding headfirst into third base. He also suffered a laceration on the knuckle after getting stepped on by Kansas City Royals third baseman Alex Gordon. He was put on the 15-day disabled list and was activated on April 25 against the Texas Rangers. On his second game after being activated, Cuddyer hit a three-run home run off Rangers' Scott Feldman, his first of the 2008 season. On May 22, 2009 Cuddyer hit for the cycle in a game against the Milwaukee Brewers.
On August 23, 2009, Cuddyer hit two home runs in the same inning, the seventh inning of the Twins' game against the Kansas City Royals, becoming the 53rd player in Major League Baseball to accomplish this feat. During September and October 2009, Cuddyer moved back into the infield playing first base filling in for Justin Morneau. Cuddyer returned to the outfield at the start of the 2010 season, but also found playing time at first and third base.
On July 3, 2011, Cuddyer was named an all-star for the first time as a managers pick. On July 25, Cuddyer became the first Twins position player to pitch in a game in 21 years when he was inserted in the eighth inning of a Twins loss against the Texas Rangers, in which they lost 20-6. The right-hander gave up a double to Mike Napoli, a bloop single to Mitch Moreland, and walked Ian Kinsler with one out to load the bases. Cuddyer then retired Elvis Andrus on a fly ball and David Murphy on a pop-up for a scoreless inning. The last Twins position player to pitch was outfielder John Moses against the California Angels on July 31, 1990.
Colorado Rockies
On December 16, 2011, Cuddyer signed a three-year $31.5 million deal with the Colorado Rockies. He chose to wear number 3 in order to honor Hall of Famer Harmon Killebrew, whom he had gotten close with in the Twins organization before he died.
In 2013, Cuddyer set a personal best with a 27 game hitting streak, the longest in Rockies history. Cuddyer was also named an All-Star for the 2nd time in his career. Cuddyer finished the 2013 regular season with a .331 batting average to win the batting title by 10 points over Atlanta's Chris Johnson. It was the 34-year-old outfielder's first batting title and the highest Cuddyer had hit in a season before 2013 was .285.
Bio Source: Wikipedia