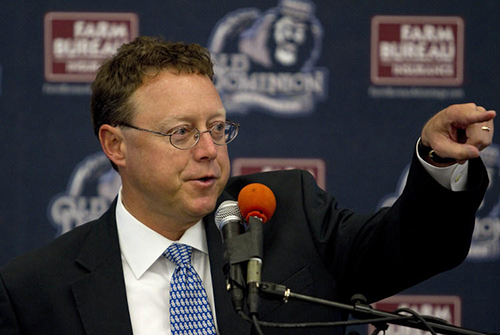 October 2014 Wood Selig and Photos
Our October 13th Luncheon speaker was Wood Selig, Athletic Director of ODU. Dr. Camden Wood Selig became the Director of Athletics for Old Dominion University on July 1, 2010.
In four short years, his "Championship Effort" mantle has been a rallying force for a transformed athletic program, which has included the University's move to Conference USA, the transition of the football program to the FBS level and the implementation of an aggressive strategic plan.
The most dramatic and gratifying accomplishment for Selig has been the academic success of the 18 intercollegiate teams. Since Selig's arrival in 2010, 14 teams have maintained or improved their annual APR, including all nine women's teams. The women's golf team has received national recognition for their perfect APR score the last three years, along with the men's tennis program this past spring.
Fifteen of the 18 teams have maintained or improved their graduation rates during his first three years, with three teams – men's swimming, field hockey and women's golf – having perfect graduation rates in the latest GSR data.
In the fall of 2013, a record 144 student athletes earned Dean's List honors with a 3.4 or higher GPA, and ODU led all C-USA schools with 240 student athletes on the league's honor roll with a 3.0 or higher. Additionally, approximately 10% of all ODU student athletes earned a 3.75 or higher and were recognized as C-USA Commissioner Medal winners.
Monarch teams have won three conference championships during Selig's tenure, and football, field hockey, men's soccer, men's basketball, men's swimming and wrestling have advanced to NCAA post season play 16 times in the past four years. The field hockey program advanced to the "Final Four" in 2011, while football competed in the 2012 FCS quarterfinals. Twenty-four student athletes have earned All-America honors in their respective sports, while 106 have garnered All -Conference honors.
Upon his arrival, Selig identified the need for an updated departmental vision and master plan for Old Dominion's athletic future, consistent with the University's strategic plan. A five-year strategic plan was implemented, setting competitive goals for every aspect of the program. Those goals included a 10% annual increase in new private revenue, top quartile finishes for all 18 teams in conference play, academic success and 100% participation of all teams and staff with community service and outreach projects.
Over the past four years, The Old Dominion Athletic Foundation has exceeded 10% revenue growth each year, raising more than $6.8 million for athletic scholarship support in 2013 from over 3,000 donors. Under Selig's leadership, $8.4 million in private support has been raised for a new basketball practice facility which is expected to break ground in late 2014, over $750,000 in baseball enhancement projects including the new Paul Keyes indoor batting complex, and planning is underway for the expansion of the L.R. Hill Complex and a new riverfront football stadium.
Corporate sponsorships, spearheaded by ODU Sports Properties, a division of CBS, have increased from $1.7 million in 2011 to $2.7 million in 2014, while ticket revenue has increased by $4 million over the last three years.
One of Selig's strengths has been his ability to assess the national landscape of collegiate athletics, and strategize ODU's opportunities for national success. He played a key role in the University's jump to Conference USA in 2012, which included moving the new football program to the FBS level of competition. Additionally, Selig helped lead the field hockey program to associate membership in the BigEast, wrestling's membership in the Mid-American Conference, lacrosse's membership in the Atlantic Sun in 2015, and the women's rowing's team's 2014-15 participation as an associate Big 12 member.
Selig spent 11 years directing the Western Kentucky University Hilltopper program, which won 70 Sun Belt Conference championships since from 2000-2010 and a national- record 19 crowns during the 2008-10 seasons. He was a key figure in guiding the WKU football program's move from NCAA Division I-AA to I-A in 2007, and he spearheaded projects of more than $100 million, which included new construction and renovations of Hilltopper facilities. WKU also won more individual Sun Belt academic honors than any other league school from 2005-2010, and every men's and women's athletic team exceeded the NCAA-required 925 Academic Progress Rate.
Prior to his stint at WKU, Selig served as the Senior Associate Athletic Director at the University of Virginia for 11 years, overseeing external operations. He began his career as the Director of Ticketing for Virginia Commonwealth University.
Selig was a four year member (2006-2010) of the NCAA Women's Basketball Committee and served as chair for both the Sun Belt Conference Athletic Directors and the Men's Basketball Committees during his tenure at WKU. He has served on the prestigious Division I Championships/Sports Management Cabinet and locally is Board of Trustees member for the Norfolk Collegiate School and the board of the Norfolk Forum. He was named the Tom Ferguson Metropolitan Person of the Year award from the Norfolk Sports Club in 2014, symbolic of his impact on the region's sports profile.
Selig was born in Chapel Hill, NC, and was raised in Norfolk, VA, where he attended the Norfolk Collegiate School. He holds a bachelor's degree in psychology from Washington and Lee University, a master's degree in sports administration from Ohio University and a Ph.D. in educational leadership from the University of Virginia, with a minor in business from the UVA Darden School of Business.
Source: ODU Bio
Photo: ( Sangjib Min, Daily Press / February 26, 2010 )
Dr. Camden Wood Selig speaks as ODU's new athletic director during a press conference at Old Dominion University in Norfolk on Friday, Feb. 26, 2010