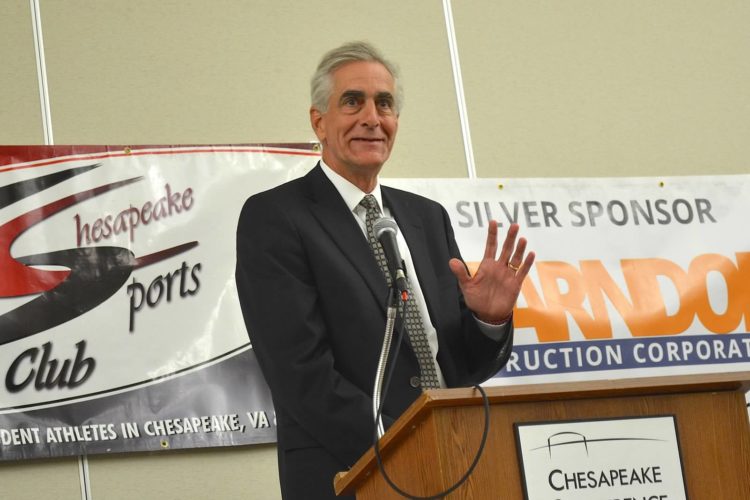 September 2015 Cavalier Legend Barry Parkhill and Photos
Photos by member Linda Clifton
Speaking September 14th was Cavalier legend, BARRY PARKHILL. Parkhill enrolled as a scholarship basketball player at The University of Virginia in fall of 1969. From 1970-73, he established himself as one of the greatest all-purpose guards in Atlantic Coast Conference history. He was named the ACC Basketball Player of the Year and ACC Athlete of the Year as a junior in 1972 after leading the conference in scoring. Parkhill holds the record for most points scored in a single game, 51 points vs. Baldwin Wallace in 1971.
The second player in school history to have his jersey number (#40) retired, Parkhill earned his bachelor's degree in education from UVA in 1973. Following his senior season, the two-time All-American was a first-round draft choice by both the Virginia Squires of the American Basketball Association and the Portland Trail Blazers of the National Basketball Association. He played three seasons in the ABA, first with the Squires and later with the St. Louis Spirits. He returned to his alma mater in 1977 to serve as a graduate assistant coach under former head coach Terry Holland.
In the following years, Parkhill was the head basketball coach at The College of William and Mary (1984-87) and St. Michael's College (1989-90). He served as an assistant coach at William and Mary from 1978-83 under his brother Bruce and at the Naval Academy from 1990-92. In 2001, Parkhill was inducted into the Virginia Sports Hall of Fame. In 2002, Parkhill was named to the Atlantic Coast Conference's 50th Anniversary men's basketball team as one of the fifty greatest players in ACC history.
Parkhill was appointed Associate Director of Athletics for development in 1998. He previously served dual roles as Director of Alumni Development for the UVA Alumni Association and Director of Capital Projects for Athletics. Prior to that, he spent three years as Associate Director of Regional Development in UVA's Office of Development.
Source: BARRY PARKHILL